Barcelona
Eindrücke aus Barcelona- Impressions of Barcelona
Rücker, Bernd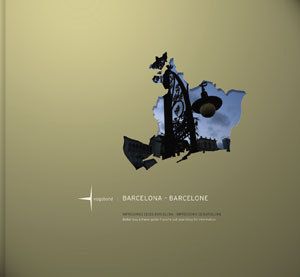 FICHA TÉCNICA
Editorial: Vagabond Books
ISBN:

9783943254006

Fecha de edición:

2014

Nº edición:

1.ª

País:

Alemania

Idioma:

Alemán

Inglés

Encuadernación:

Tapa dura

Medidas:

33 x 31

Nº páginas:

468
Barcelona
Eindrücke aus Barcelona- Impressions of Barcelona
Comenta y valora este libro
Formato papel
[

DISPONIBLE

]
pvp.

39,95 €
"F. schlug die Augen auf. Die eckigen Konturen um die blaue Fläche im Zentrum seines Sichtfeldes waren verschwommen... Er hoffte, dass der Augenblick diesmal länger dauern würde, zumindest so lange, bis sich seine Wahrnemung schärfen konnte und die undefinierbaren Silhouetten scharf zeichnen würde, um sich dann mit seinen Erinnerungen zu verknüpfen..."
In einer Seitengasse Barcelonas erwacht F. aus der Bewusstlosigkeit. Er kann sich weder an seien Namen noch an seine Herkunft erinnern. Auf der Suche nach seiner identität erkundet er die Stadtviertel, um einer Botschaft Hinweise aufzuspüren. Sien fünfzig Euro Barvermögen zwingen ihn, über Möglichkeiten zum überleben nachzudenekn...
Ein emotional Bildband.
"F. opened his eyes. All he could see was a blue patch with blurred anguar contours in the middle of his field view. He hoped the moment would last longer this time, at least until he could come to his senses and these silhouettes became sharper, thus sparking off something in his memory."
After coming round in a back alley in Barcelona, F. discovers he is suffering from amnesia. He roams the city in search of clues to find out who he is and where he comes from - with nothing but a note to go on and fifty euros in his pocket...
An emotional book of photograps.
---